The MANE event starts this July!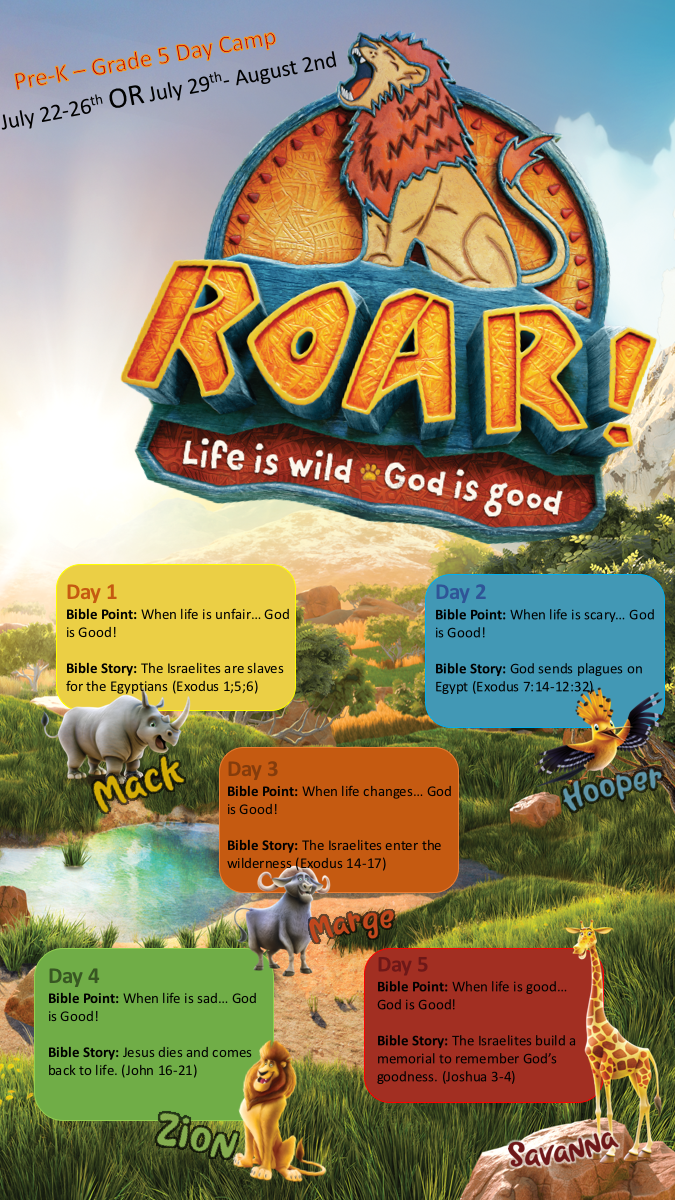 We invite all Preschool-5 (Preschool*-completed 5th Grade) children to a summer kids' Day Camp hosted by Mariners Church. Our theme this year is ROAR, an epic African adventure that engages the whole herd!  At ROAR, kids explore God's goodness and celebrate a ferocious faith that powers them through this wild life.
 Each day, kids explore activity stations with their Zoo Crews to reinforce the daily lesson in a hands-on, interactive way that keeps everyone engaged. Our mornings are filled with Sciency-Fun Gizmos, team-building games, cool Bible songs, and tasty treats; just a few of the standout activities that help faith flow into real life. And our afternoons are filled with local and destination field trips. (Since everything is hands-on, kids might get a little messy. Be sure to send them in their camp shirt [included with registration], play clothes and safe shoes.) Plus, we'll help kids discover how to see evidence of God in everyday life—something we call God Sightings. Get ready to hear that phrase a lot! We hope you will register your child for this incredible adventure.
*Preschool Restrictions apply!
OPTION OF TWO WEEKS!*
Choose Week One: 
July 22-26th
OR
Choose Week Two:
July 29th- August 2nd
*Week Two is the only available week for Preschool aged campers.
REGISTRATION OPENS APRIL 21ST!
Ready to Register your child for this epic adventure?
Please only register for one week only so that we can serve as many campers as possible.
Payment options:  We take cash or check by mail or by dropping off to the church office or on Sundays in the kid's room lobby.
Sending your Preschooler?
Our preschoolers join us Week 2.(July 29th – August 2nd)
Here are some things to remember about your child:
TK is considered Preschool.
They MUST be potty trained!  Absolutely NOexceptions!
HALF DAYS are required for all preschoolers!
LIMITED SPACEavailable!
A preschooler is ages 3-5.
Want to see what happens at Day Camp?
Click HERE to view photos!
Ready to Make a Difference?
What really makes our Day Camps E.P.I.C. is our Energetic, Patient, Incredible, & Caring Leaders! When these dozens of people give of their time and love to guide children through a great week to discover more of God's plan for their lives, our week becomes that much more enjoyable!
if you are interested in making a child's week E.P.I.C., please fill out the application below and send back to mariners church.
Email Back to Kaitlin
Or send to Mariners Church by mail.
Day Camp – ATTN: Kaitlin
Mariners Church
100 Stone Pine Rd.
Half Moon Bay, CA 94019