The adventure begins THIS July!
Volunteer
(for all weeks)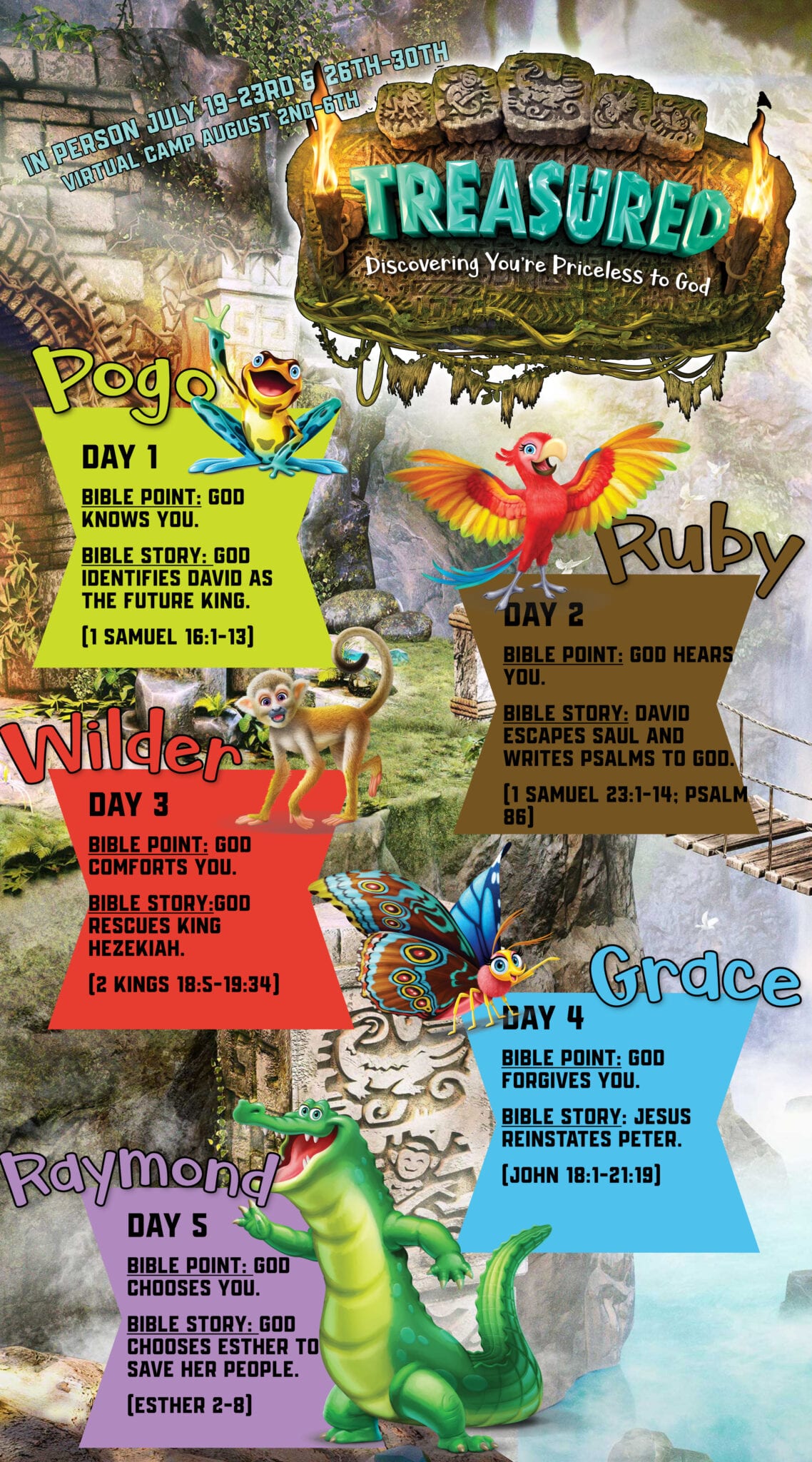 We invite all K-5 (Kindergarten-completed 5th Grade) children to a summer kids' Day Camp hosted by Mariners Church. Our theme this year is Treasured, an epic, fun-fueled quest!  At Treasured, kids discover that God's greatest treasure isn't diamonds, gems or gold — it's them!  So what are you waiting for? Grab a vine and swing in!
 Each day, kids will explore activity stations with their Crews to reinforce the daily lesson in an interactive way that keeps everyone engaged even through our digital platform. Our mornings will be filled with Sciency-Fun Gizmos, team-building games, cool Bible songs, and of course, lessons that will get them thinking; just a few of the standout activities that help faith flow into real life. Be sure to wear your camp shirt [included with registration] to get excited for the day!  Plus, we'll help kids discover how to see evidence of God in everyday life—something we call God Sightings. Get ready to hear that phrase a lot! We hope you will register your child for this incredible adventure.
COVID-19 PROTOCOLS*
Your child's safety is extremely important to us!  Due to COVID-19 we will be taking the strictest measures to ensure all our campers' and staffs' safety.  As such, some things we have changed this year:
NO FIELD TRIPS: We are sad we cannot run full days, however we cannot safely guarantee our 6ft rule on buses for the number of children we cater too.
TWO SESSIONS A DAY: This ensures we can cater to more children over the two weeks we will hold our Day Camp.  We will have a morning session (9:00am-12:00pm) and an afternoon session (2:00pm-5:00pm).  The timings of camp will enable our facilities to be cleaned and disinfected before our next session.
PODS: We will be running Day Camp Sessions in Pods.  Pod A will meet upstairs and Pod B will meet downstairs.  You will be notified which Pod your child will be in before camp starts.  Neither Pod will mixed during the week.
NO PRESCHOOLERS:  As much as we love our little campers, our Preschoolers will be invited to wait until next year's in-person camp. Or, they may join our Virtual Camp with an older sibling.
ONE SESSION PER CAMPER:  You may not sign up for this camp twice.  To ensure we can welcome as many campers as safely as possible, we ask you to choose one week and one session only (either mornings or afternoons).  Choose one week and one session.
For more information, please refer to our COVID-19 Parent Information Packet.
*PLEASE NOTE: Protocols will be changed as the CDC, California, and San Mateo County Guidelines change.
Typical Morning at Treasured!
9:00-9:25am (2:00-2:25pm) – Sing & Play Rock: Listen to our new Bible Point, meet Mr. Diggingstone AND our new Bible Buddy, listen to fun music and get ready for the next station!
9:30-9:50am (2:30-2:50pm) – Bible Adventures: Get ready to go back in time and watch a new Bible Story come to life daily!!
9:55-10:15am (2:55-3:15pm) – KidVid Cinema: Meet a new friend from across the world that experience the same situations as you do every day!
10:20-10:35am (3:20-3:35pm) -Vine Dining Snacks: Enjoy a pre-packaged snack and take a break before getting to our next station!
10:40 – 11:00am (3:40-4:00pm) – Imagination Station: Get out your bags and discover our new Sciency-Gizmo of the day!  Experience fun gadgets to play with!
11:05-11:25am (4:05- 4:25pm) – Jungle Gym Games: Let's take a break and play some fun games together!!
11:30-12:00pm (4:30-5pm) – Closing Quest – Wrap up our morning with some more of our awesome songs and a very cool, awesome, amazing trick that will tie in everything you have learned that morning!
In-Person
9:00am-12:00pm or 2pm-5pm
Our costs include in person daily lessons, Skits, snacks, awesome decorations, Crew camaraderie, crafts, t-shirt, science experiments, and awesome fun extras for your camper!
Want to see what happens at Day Camp?
Click HERE to view photos!