2020 has been tough on all of us. We'd like to end this year with JOY. Beginning in November we will be discovering the JOY God gives us in this life, and how we can make it real no matter what happens.
 Let's experience 40 Days of Joy!
We don't see much to be joyful about. But maybe that's because we don't know where to look. Let's close out the year discovering the joy that is truly all around us.
Make the MOST of your experience! Download our 40 Days of Joy Guide.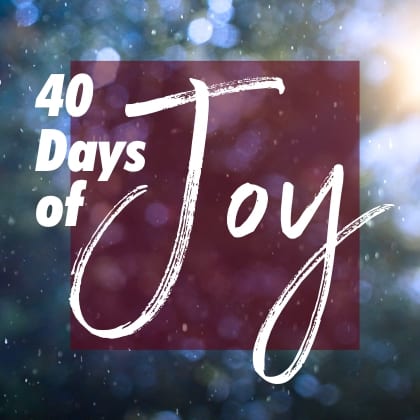 For the next 7 weeks and two special events of Thanksgiving and Christmas, we are going to be looking at special ways God provides us joy! Let's end this year with joy!
SUNDAY 11/15: What is Joy and how do I get it?
SUNDAY 11/22: The Joy of Right Now
THANKSGIVING 11/26: The Joy of Giving Thanks, A short, simple way for you and your family to express thanks.
SUNDAY 11/29: The Joy of Who God Made Me
SUNDAY 12/6: The Joy of Others
SUNDAY 12/13: The Joy of Giving/The joy of Amazon
SUNDAY 12/20: The Joy of JESUS
CHRISTMAS EVE 12/24: The Joy of WONDER, A special Christmas Eve with favorite songs, fun, and a look at God's special love for us.
SUNDAY 12/27: The Joy of Tomorrow
How to Participate
Online: For our full experience, please participate online in one of two of the following ways:
Go to https://marinershmb.online.church on Sunday at 9:15 or 10:45 am to participate together! We have a full presentation. It will be interactive with live chat.
Watch the presentation any time on our YouTube channel. Subscribe to the Mariners YouTube channel so you don't miss a thing!
In-Person: We are meeting in person and indoors in a reduced and cautious manner. If you are comfortable and willing to adhere to the cautions, we are meeting on Sundays at 10:30a. Please visit our Welcome Home page for all the up-to-date information and link to reserve your attendance (required as per county guidelines, info not shared with anyone).
Daily Encouraging Videos
Each morning, Monday through Saturday, one of our pastors post a short video of encouragement, humor, or inspiration with a bit of a take on that week's theme. Subscribe to the Mariners YouTube channel so you don't miss a thing! You can also watch on our Facebook and Instagram feeds.
To Get You Through Your Day
Discussion Starters
We have put together some very simple thoughts and questions for you to consider each day. Make some time with friends or family and kids of all ages and discover together. We have made them available as a daily option, so take some time each day, perhaps dinner, to just talk it over. Intentionally find ways to recognize the joy that God as made available to us. Download our 40 Days of Joy Guide.
Memory Verses
Memory verses? What's that? Perhaps you've never considered memorizing a passage or phrase from the Bible before, but taking some time to put a promise or statement from God into your mind and heart is a great way to keep your life focused on what's important. Take a bit of time yourself and with your family to talk about and memorize these verses. Download our 40 Days of Joy Guide.
Kid's  and Youth Activities
Children: Nursery – Grade 5
Join our Kids' Program weekly on our Private Facebook Group by clicking here!  Weekly Lessons focused on JOY during our 40 Days of Joy as well as fun activities you can participate in during the week!
Check out our Children's webpage for info on how to be involved all the time!
Youth: Grades 6-12
Have a student in grades 6-12? Our youth director, Curt, is posting daily on the mcc|youth Facebook page and Instagram feed. You can join and like at https://www.facebook.com/groups/mccyouthhmb or @mccyouth_hmb on instagram. Check out our youth webpage for info on how to be involved all the time!
The deadline to have a Christmas gift mailed to you has come and gone. If you filled out a form, look for a red padded envelope to arrive in your mailbox soon. And then come back on Christmas Eve to watch with our community at 5 or 7:30pm!
If you reserved your gift, look for it in your mail! It's on it's way. If you did not reserve a gift, you may pick one up from the church THIS SUNDAY, December 20, at the in-person gathering at 10:45 OR from 1-2pm. There will be a box outside the front door.
Also, please note the Christmas Eve service will still be VERY meaningful without the gift items, so please make sure to join us.